The Governor of Somalia's Puntland state Mr. Abdiweli Mohamed Ali Gaas repeated the call for Jihad against Somaliland during his speech to worshipers after the prayer of Eid Al-Fitr.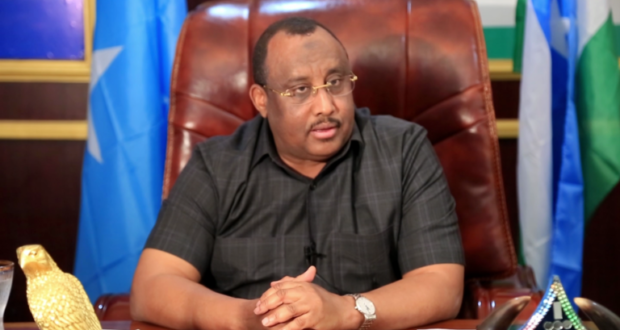 This is the second time Puntland has called for Jihad against Somaliland to recapture Tukeraq town which Somaliland has reclaimed from Puntland militias in early January as well as other parts of Sool and Sanaag regions of Somaliland.
Puntland is claiming that large swaths of Sool and Sanaag regions are part of it is territory based on their tribal composition. While Somaliland is asserting that its borders are those defined by the colonial powers which is what every border in the entire African continent is
based upon.
Somaliland accused Somalia's Federal Government of being behind two failed assaults by Puntland Militias to retake Tukeraq town.
Mr. Gaas who has sacked his intelligence and security services chiefs last Wednesday in a move that many observers attributed to string of high profile and brazen attacks by Al-Shabaab terrorist network. Al-Shabaab has overrun a major military base close to the regional capital of Bossasso. Additionally, reports from Bossasso also pointed to intelligence lapse in the planning of two failed assaults on Somaliland's Army in Tukeraq town.
Despite the region being in the grip of terrorism, the regional Governor once again called for armed Jihad and appealed to the people of Sool that Puntland is coming to liberate them.
Somaliland Responds
When asked to comment on Mr. Abdiwali's threats and call for Jihad against Somaliland, Somaliland's Presidential spokesman, Mr. Mohamoud Warsame Jama stated Somalia and Somaliland had a union that was dissolved in 1991, there is nothing between Puntland and Somaliland. He added that Somaliland will not respond to the weak regional administration that cannot secure its people from Al-Shabaab and any threats from Puntland are of simply no consequence.
The spokesman continued to say that Somaliland holds the Somali Federal Government  responsible for the attacks on Somaliland in Tukeraq on two separate occasions and that we have been a nation, a powerful nation that existed for 27 years and will not be harmed by skirmishes by Somalia.
The President's Spokesman added that Somaliland is working to provide relief to its people affected by the recent cyclone but will defend it self and its borders are not negotiable and that it is ready to defend itself against attacks.