By Hussein Adan Igeh (Deyr)
The highly-explosive civil war in Ethiopia with associated overarching geopolitical implications appeared to have created an entirely new regional security order in which major world powers could collide with each other in order to entrench their sphere of influence on the Horn of Africa region. As expected, lines are drawn and sides are predictably being formed. Those in contention are lining up against each other, where everyone is eagerly willing to eliminate the other.
The ongoing civil war in Ethiopia has already fuelled the scope for a revival of Chinese, Russian, Turkish, and Iran positions dominating the Gulf of Aden, the Red Sea, and Suez Canal sea lanes, which may yet undermine the US/Western position in the Horn of Africa and the Middle East.
1. WHY THE HORN OF AFRICA MATTERS?
The strategic importance of the Horn of African region comes from it being the source of the Nile waters and the gateways to the Red Sea and the Gulf of Aden sea lanes. Its location on one side of some of the world's major trade sea lanes and land routes gives Horn of Africa vital global importance.
Therefore, given the ever-growing Chinese, Russian, Turkish, Iran, and UAE involvement in this strategically important Horn of Africa region, it is the time when the U.S. government should pay particular attention to the historical background and current opposing geopolitical dynamics in the relevant countries in the Horn of Africa.
2. INCLUSIVE, VALUES-DRIVEN, AND FUTURE-ORIENTED POLICY STRATEGY FOR THE HORN OF AFRICA REGION:
The US needs to adopt bold policy strategies towards Horn of Africa nations based not only on lessons from the past (black hawk down in Mogadishu, Iraq, Libya and Syria war adventures, and the latest setbacks of the chaotic withdrawal from Kabul, Afghanistan) but also focusing on the new geopolitical realities in the eastern part of Africa.
The US should come up with a profound and pragmatic strategy for the Horn of Africa that is designed to promote democratic principles, rule of law, good governance, and overall protection of human rights. The United States of America should devise a comprehensive and feasible new policy strategy towards the Horn of Africa, one that is based on building strong, democratic institutions with the principle of "one person, one vote" and focuses on capacity building and contributing to tangible economic developments.
Washington should be wise to re-think its approach to regional cooperation and layout a more inclusive, values-driven, and future-oriented strategy for the Horn of Africa region. Given the current security, economic and diplomatic dynamics in the Horn of Africa, in order to counterbalance the Chinese predatory policy and its ever-growing economic and security influence in the Horn of Africa region, the US government needs to present a clear and coherent policy for this strategically important region.
In this strategically important region of the Horn of Africa, the powerful influence that China, Turkey, and Russia have built in the region for the last two decades, particularly in Djibouti, Ethiopia, and Somalia threatens the U.S.A's ability to
defend its geopolitical, security, and economic interests in the whole East Africa region.
3. U.S.A-HORN OF AFRICA POLICY SHOULD BE CENTERED ON DEMOCRACY & CONSTITUTIONAL RULE OF LAW:
Demanding from Horn of African countries to choose between the United States and their new emerging powerful partners is an old mindset dated from the Cold War era. America needs to understand that in the twenty-first century African countries are capable of defining and articulating their interests and partners of choice. Further, the traditional donor-recipient model is no longer applicable for African countries
particularly in the Horn of Africa. Therefore, America must actively invest in building the capacity of East African countries and institutions to negotiate from a position of strength and close the knowledge and information gaps. America needs to center its HoA-USA policy on constitutional rule of law, democracy, human rights, and mutual prosperity.
4.  RECOGNITION OF SOMALILAND BRINGS MULTIPLE MUTUAL BENEFITS:
Recognizing Somaliland by U.S.A could be a game changer in the current geopolitical dynamics in the Horn of Africa. There are countless reciprocal benefits for both countries associated with it when America shows the necessary global leadership. Recognition of Somaliland brings the following benefits for the United States of America:
Recognizing Somaliland by Biden's administration would let the U.S.A. build a partnership with the government of Somaliland that would give Washington a protection against further deterioration and out-manoeuvring of America's position and interests in Horn of Africa region;
Somaliland perfectly fits the criteria of being America's overseas strategic strongpoint to counterbalance the Chinese predatory policy and its ever growing economic and security influence in Horn of Africa region;
By establishing naval bases and commercial ports with special strategic and economic value along Somaliland's long coast, America can secure its regional overall interests through trade routes and commercial zones that interconnects in all East African countries;
Recognizing Somaliland would affirm American support for democratic principles and good governance by rewarding Somaliland's meticulous and tenacious 30-year-old homegrown peace, stability, governance and democratic endeavour.
5. CONCLUSION:
America can no longer sit on the sidelines and allow China, Turkey, Russia, Iran, and rich Arab Gulf countries to determine and shape the security, economic and geopolitical dynamics in this volatile but strategically important Horn of Africa region.
Making no action by Joe Biden's administration puts the United States at a strategic disadvantage as China could leverage the United States military base (Camp Lemonier) out of Djibouti at any time.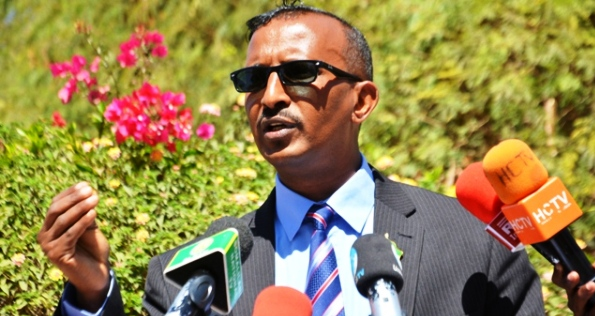 Eng. Hussein Adan Igeh (Deyr) is the Former Minister of Trade & Investment and Former Presidential Spokesman.
Disclaimer: The viewpoints expressed by the authors do not necessarily reflect the opinions, viewpoints of the Somaliland Chronicle and its staff.
Notice: This article by Somaliland Chronicle is licensed under a Creative Commons Attribution-NonCommercial 4.0 International License. Under this license, all reprints and non-commercial distribution of this work are permitted.