In a series of escalating steps by the government and electricity providers following the massive hike in electricity prices, the Somaliland Electricity Association, an umbrella organization whose members are electric providers in Somaliland, informed the public of a five-hour electricity blackout beginning from 11 PM to 4 AM starting on August 1st, 2022.
The electric association stated rising fuel costs and an attempt to conserve their fuel reserves as the reason for the five-hour blackout.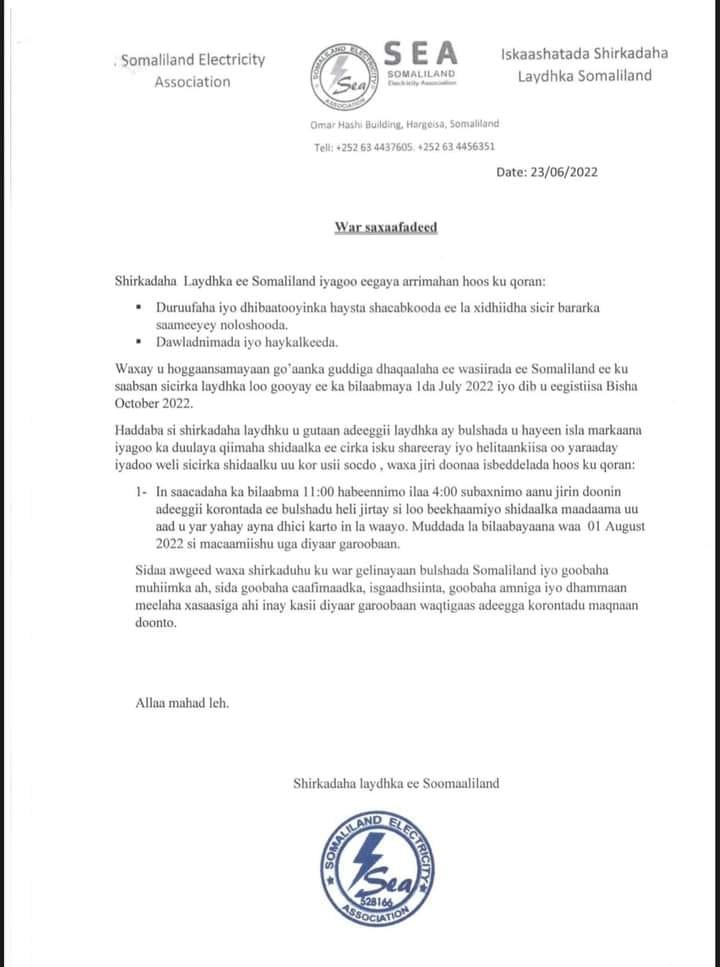 In addition, the association stated that its members have agreed to a ten-cent hike per unit instead of the 85 cents per unit that customers were billed without warning. The average rate per kilowatt was around 50 cents prior to the hike.
Somaliland government's attempt to negotiate with the electricity providers to prevent the steep price hike at a time of major inflation of essential commodities has failed. The cost of fuel in Hargeisa was 12,000 Somaliland Shillings, or $1.4 US dollars as of today.
Letters from the Ministry of Interior and Energy Commission did little to sway the electricity providers to back off the 35% price hike. In a previous statement, the electricity association stated that their fuel reserves are running short and may be unable to provide electricity to their customers.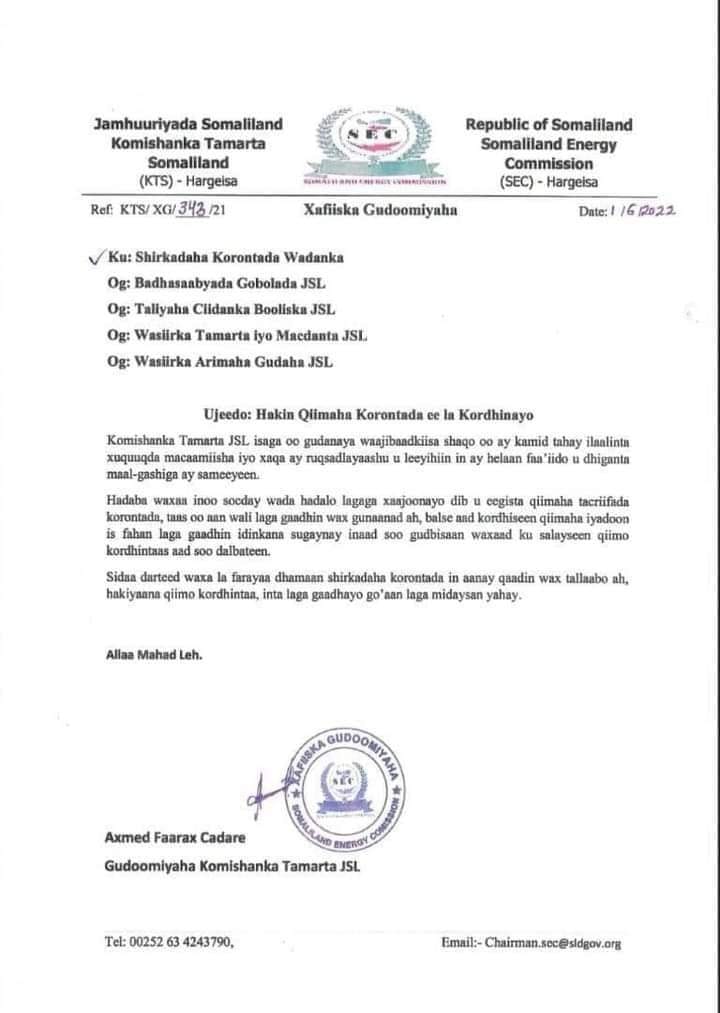 Yesterday, the government's Economic Council consisting of President Bihi's cabinet members, including the Minister of Finance Dr. Saad Ali Shire, issued a similar statement that the Energy Commission and electricity providers have agreed to a ten cent hike and that the cost of electricity will be reviewed in October 2022. The statement did not mention the five hour electricity outage the electricity providers have announced.
On June 19th, Somaliland Parliament announced that the decision by the Energy Commission to halt the electricity price hike was unlawful and invalid, and the disbandment of the Energy Commission and asked the President to appoint new commissioners.
The Chairman of the Energy Commission, Mr. Ahmed Farah Adarre, has accused members of Parliament of being shareholders of electricity providers and that they lacked the authority to disband the Energy Commission.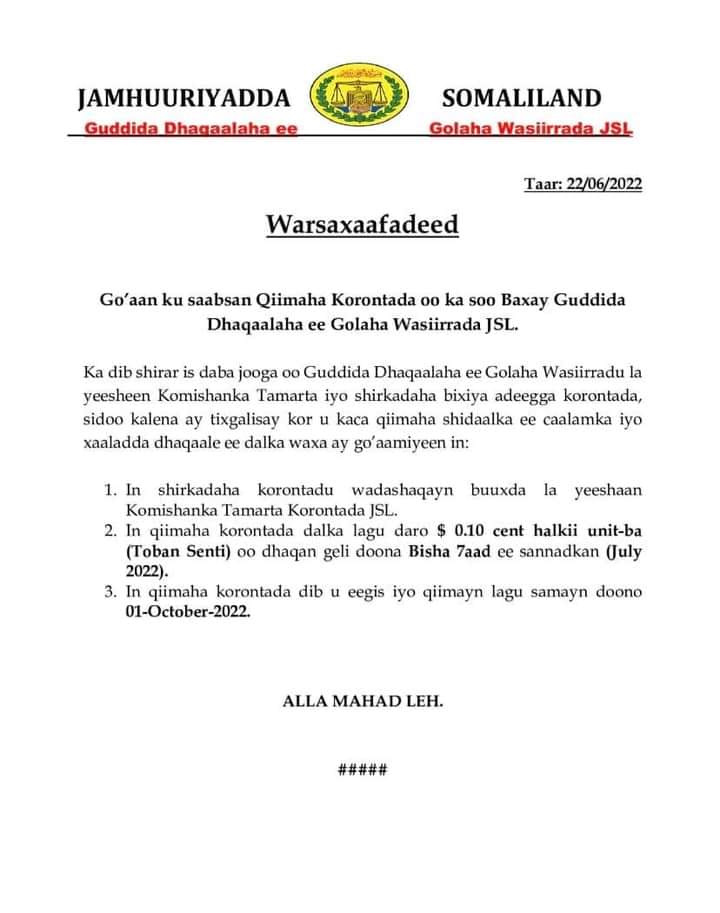 Despite tens of millions of aid and foreign funding pouring into the energy sector and electricity providers, Somaliland's electricity is unregulated and counts among the most expensive in the world.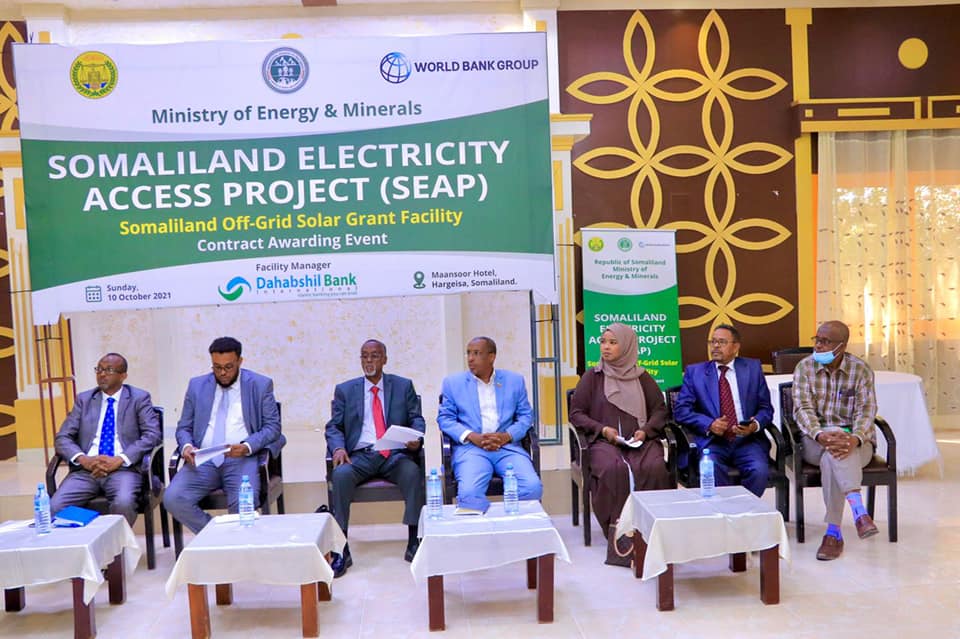 It is unclear if the five-hour blackout is part of the agreement between the government represented by the Energy Commission and Economic Council and Somaliland Electricity Association. Efforts to reach government officials and electricity providers were unsuccessful.