According to diplomatic and government sources, the UK government has suspended its support for Somaliland Police and has asked the Somaliland government to investigate allegations of police brutality following the opposition-led protests in Hargeisa on Thursday, June 9th, 2022.
The International Partners, which includes the United Kingdom, the European Union, and Scandinavian countries, support Somaliland in the areas of democratization and provide capacity-building programs to various government entities, including the Somaliland Police.
On Thursday, June 9th, Somaliland Police clashed with demonstrators in Hargeisa following what the opposition called a rehearsal and an orientation for demonstrators for a nationwide demonstration on the political standoff with the President on whether the presidential election will be held on November 13th.
Opposition parties have accused the government of using excessive force, live fire, tear gas, and unlawful incarceration of opposition figures, journalists, and protestors.
Somaliland government denies the accusation and stated that the protestors attacked the Police, and the security detail of Mr. Abdirahman Mohamed Abdillahi Cirro, the former Chairman of the Waddani Party and presidential candidate, has fired on the Police.
The Ministry of Foreign Affairs has issued multiple statements explaining the demonstration and placed the blame on the opposition parties for conducting what the government called unwarranted protests and firing on the Police have shown maximum restraint.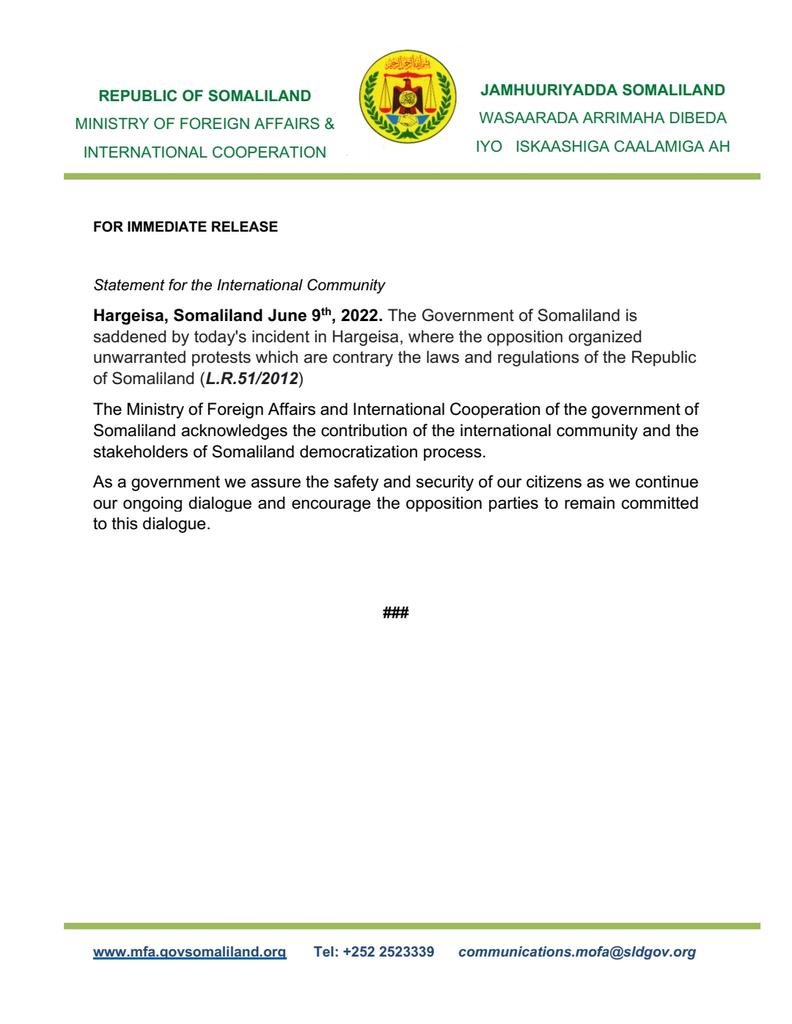 In addition, Somaliland Police stated they will investigate the injuries reported by members of the opposition party, including Member of Parliament Mr. Barkhad Batun, who stated that he has been shot in the lower extremities.
Detained politicians from the opposition parties and journalists appeared before the Marodijeh Regional Court in Hargeisa since they were arrested on June 9th and subsequent days. No charges were brought against them, and the government was granted an additional seven-day remand in custody for additional investigation. Courts routinely grant additional remand to police to hold suspects without charges.
"International partners following Somaliland's democratization process are very concerned by the violent incidents that occurred during the political protests in Hargeisa today. We urge restraint from all sides in order to de-escalate the situation and prevent harm & injury" said a statement issued by the international community on June 9th.
In 2019, the UK government has suspended operational support of Somaliland intelligence services and the counter-terrorism police units known as the RRU. The impact of the UK government suspending its support to Somaliland is unknown as Somaliland spends heavily on its security.
Major General Mohamed Adan Saqadhi (Dabagale) who we contacted for this report, denied the UK government has suspended support for Somaliland Police, but other government officials who spoke on background stated that there are still ongoing talks with the UK government. Officials from the British Office in Somaliland did not comment.