The Republic of Somaliland is enjoying yet another string of high profile diplomatic successes in its own backyards of Djibouti and Ethiopia following the momentous Adjournment debate at the British Parliament on January 18th, 2022 where Gavin Williamson and other MPs have skewered Mr. Chris Heaton-Harris on why the UK has not recognized Somaliland and so eloquently dismantled the notion that Somalia has any say in Somaliland's right to independence. The leaders of Ethiopia and Djibouti seem to have a near-simultaneous epiphany about Somaliland and its strategic importance to their economies and national interests.
On the same day as the debate in the UK Parliament, the President of the Republic of Somaliland HE Muse Bihi Abdi led a delegation consisting of the Minister of Foreign Affairs and International Cooperation, the Minister of Transportation, and Dr. Edna Adan, his Foreign Affairs Advisor to Addis Ababa where they met with the Ethiopian Prime Minister Dr. Abiy Ahmed and members of his cabinet. The exact details of what was discussed have not been disclosed officially beyond the usual boiler-plate statements of "discussions of mutually beneficial interests". Shortly after the President's visit, news came that Ethiopia has upgraded its Representative to Somaliland to the full diplomatic post of Ambassador.
Although connections between the visits to Addis and Djibouti are not clear, the Minister of Foreign Affairs and International Cooperation Dr. Kayd led another delegation to Djibouti and met with President Ismail Omar Guelleh and members of his government, almost identical boiler-plate statement was issued about the purpose of this visit and the nature of discussions.
What is driving the renewed interest from Ethiopia and Djibouti, both of which maintained diplomatic outposts in Somaliland for decades but preferred to keep Somaliland in diplomatic purgatory and at times throwing their full support behind the government of Somalia, is not clear but it's entirely possible that Somaliland's neighbors are vying to keep it in their sphere of influence for their own national security interests or perhaps hedging their bets on Somaliland's meteoric rise in the international arena and interest from global players such as the United States.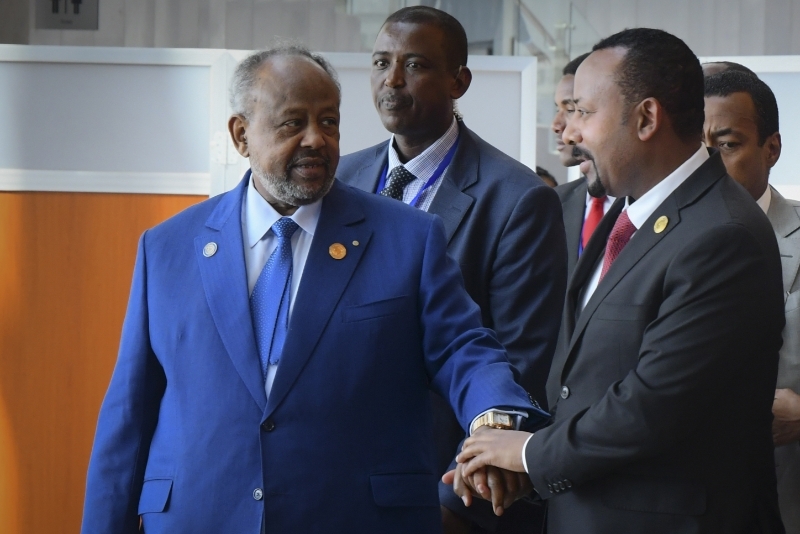 Dr. Kayd, the Minister of Foreign Affairs, has vehemently denied reports of Ethiopian interests in Zaila for naval purposes though government denials are rarely credible; but the notion that Abiy wants Zeila as a port for his non-existent navy seems inconceivable as he currently lacks the resources or allies with deep pockets willing to bankroll a navy let alone the patience to wait for the construction of a brand new port in Zeila that may take years to complete but As Rashid Abdi correctly mused there is no free lunch and Abiy must want something big from Somaliland—we just don't know what it is yet
The optics of President Bihi meeting with Abiy and any agreements reached in Addis, depending on their nature, require a delicate balancing act, especially as President Bihi prepares for his trip to the United States, where Abiy has lost much of his luster for prosecuting the war in Tigray.
The ultimate test for President Bihi will be how well he can navigate increasingly complex regional dynamics and unapologetically chart the best possible course for the future of Somaliland while avoiding being pacified with symbolic gestures and short-term gains.
The People's Republic of China is a variable that cannot be ignored in the Horn of Africa or the continent at large and the massive influence China exerts on both Djibouti and Ethiopia. It is entirely plausible that it has not given up on Somaliland and is trying to bring it back into the fold through Ethiopian and Djiboutian influence.
The same whirlwind week brought rather unfortunate news that Somaliland has never requested formal recognition from Kenya. In addition, none of the agreed-upon items between Presidents Bihi and Kenyatta on their meeting in Nairobi on December 2020 have materialized. Somaliland government has yet to issue an explicit statement on the status of these items and whether it has ever officially requested recognition from Kenya or any other country.
The new Minister of Foreign Affairs and International Cooperation, Dr. Essa Kayd is a dual Somaliland and United States citizen and since taking the helm has injected a new energy into Somaliland push for international recognition seems to be smashing long held assumptions such as the importance of talks between Somalia and Somaliland and leading an new more assertive approach to foreign policy.