According to government records and agreements examined by the Somaliland Chronicle, The Ministry of Telecommunication and Technology has spent tens of thousands of dollars on multiple contracts for policy, awareness, and training documents copied from various online sources.
Documents show a frantic pace of spending towards the end of the 2022 where multiple contracts under 5,000 US dollars which falls threshold of National Tender Board requirement for public bid were awarded to various companies with the majority going to a company called Somali Software Engineering company.
In recent months, plagiarism has become a standard operating procedure for some government agencies and the latest to do so were the Ministries of Transportation and Health which released major policy documents that were plagiarized from Rwanda and Bangladesh.
In the case of the Ministry of Telecommunication and Technology, its documents for awareness, fiber optic, and postal service are riddled with spelling errors and were entirely copied or stitched together from various sources on the internet.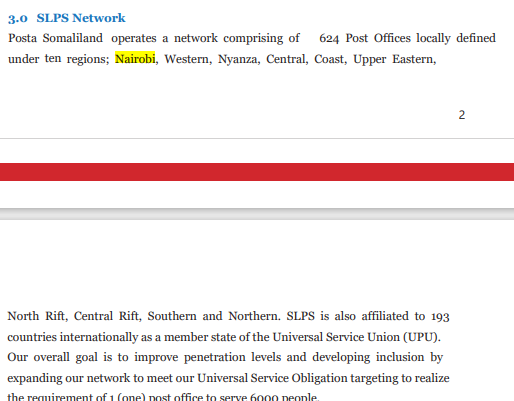 Some of the projects implemented in this period include the Postal Customer Service Policy document put together by ministry employees who have been compensated 5,000 US dollars for their effort despite being salaried government employees and their product being a copy of Kenya's Postal Customer Service Guidelines. Email addresses and other identifying marks were not removed from the Kenyan Postal Services document to hide its origin. In addition, it cites laws and statutes that do not exist in Somaliland.
The awareness campaign and fiber optic training documents which the Ministry has funded and implemented by Somali Software Engineering, a company frequently used by the Ministry of Telecommunication and Technology, are elementary and lack technical depth. The most egregious case of plagiarism by the Somali Software Engineering company is the document titled "Excessive use of technology devices and their healthy impact" where a single paragraph seems to have been stitched from multiple sources that have nothing to do with one another and the ministry paid 5000 US dollars for it. 
Efforts to reach the Director General and other officials from the Ministry of Telecommunication and Technology about the review process of documents produced by consultants and qualifying processes to award contracts were unsuccessful.